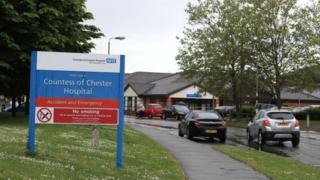 An English hospital has said it will no longer take in Welsh patients except for emergencies or maternity cases.
The Countess of Chester NHS Foundation Trust decision will impact on thousands of people in Flintshire who currently use it, with immediate effect.
GPs will not be able to refer Welsh patients for treatment over the border at the hospital.
The decision follows a row over payments to the hospital for caring for patients from Wales.
Evan Moore, of Betsi Cadwaladr University Health Board, said: "The chief executive officer of the Countess of Chester Hospital has written to us to advise that they will be unable to accept any elective referrals in any specialty for Welsh patients until further notice."
The chairman of the NHS trust, Sir Duncan Nichol previously said caring for Welsh patients was "hard to countenance" due to costs.
But the trust has yet to disclose its reason for the change.
About 20% of the Countess of Chester Hospital's (COCH) patients are estimated to live in Wales.
Mr Moore added that they are working to "accommodate newly referred patients" within existing services in Wales.
"We will be writing to all affected GPs and medical staff to inform them of these changes," he said.
Mr Moore added that the decision did not affect cancer patients, urgent elective patients already referred to COCH or non-elective patients such as A&E patients or maternity patients.
Wrexham Maelor Hospital and Ysbyty Glan Clwyd are the next closest hospitals for patients in the area.
Doctors from the Marches Medical Practice said they were "extremely disappointed" at the decision.
"We feel strongly as a cross-border practice that patients should be free to choose where they are treated and are extremely disappointed that our patients could be adversely affected by this policy."
The Countess of Chester Hospital NHS Foundation Trust and the Welsh Government have been asked to comment.
Original Source